AUTHOR:BENUS ADU POKU
FIRST PUBLICATION: Meadow Books, UK
ISBN: 1846852927
PUBLICATION: SEPTEMBER 2006
PAGES: 210
CURRENT PUBLICATION: Bap Gbooks
LANGUAGE: English
This emblematic literary art pays eternal homage to African Heroes and Values. It is dedicated to all impoverished people who yearn for freedom; from the shackles of oppression, exploitation and human degradation. It is written by Benus Adu Poku, Award-Winning and Critical Acclaim Prolific Author with deep introspection, set in Accra, Ghana.
As a historic milestone, the plight of ordinary people, has cascaded down, globally in the mainstream of Africa's contemporary emancipation This period is characterised by intensive political manoeuvres, championed by Kwame Nkrumah and his 'veranda boys' against British colonial rule.
In the morning, on the day of independence, March 6, 1957, Odenke's mother, Akwele, prepares a symbolic meal for him. The downtrodden will never go hungry and thirsty and barefooted after freedom has been attained. In a series of invocations, extolling the appellations of the Almighty, Supreme-Rain God, Ataa Na Nyongmo and some African Deities, Legends, Traditional Rulers, Cultural Norms and Values, Wulomo, the venerable Hierophant, eventually subdues Brown, the stooge. Brown capitulates in his savage endeavours to render his own people homeless. At the Old Polo Grounds, modern history is being brewed for posterity. Kwame Nkrumah mounts the podium to proclaim harvest of ripe fruits of Sweet Freedom Heritage struggle. This is African heritage for the people and the Diaspora to fill their shrinking tummies.
      This Grand Book for Generations is suitably enriching to provide wisdom, knowledge, pleasure as well as mastery of language for learners at all levels, academicians, researchers, political reformers, religious and African Traditional leaders, historians, artists and artistes, film-makers, Pan-African activists and readers from all cultures of life including the youth- Africans and the Diaspora.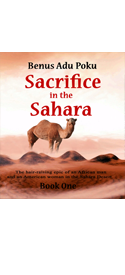 Author: Benus Adu Poku
ISBN :10:99911-697-0-9/ 13:978-99911-697-0-5
Pages: 300
Print Edition: Bap Gbooks
EBook Edition: www.samashwords.com
Publication: September, 2012
Cover: Vanessa Finaughty www.firebladepublishers.com,  Cape Town
Printer: Groep 7 Drukkers Pretoria www.groep7.co.za
This is Book One of a trilogy with the same title. This hair-raising epic is a magnum opus of Benus Adu Poku, Editors' Choice Award-Winning and Critical Acclaim Author. Boison is a young African man compelled by socio-economic hardships in his country to flee to Europe for a better life through illegal and unconventional routes in the Sahara desert. There, he comes upon Hilda, the American woman. What is this daring and dazzling woman up to in the inhospitable Sahara? Even in the midst of affliction, can her beauty and elegance and charisma exert any meaningful influence on the African man to digress from his original dream? All too soon, there is going to be a gruesome encounter……..
Updating…