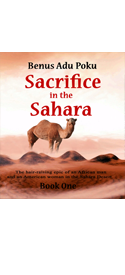 Author: Benus Adu Poku
ISBN :10:99911-697-0-9/ 13:978-99911-697-0-5
Pages: 300
Print Edition: Bap Gbooks
EBook Edition: www.samashwords.com
Publication: September, 2012
Cover: Vanessa Finaughty www.firebladepublishers.com,  Cape Town
Printer: Groep 7 Drukkers Pretoria www.groep7.co.za
This is Book One of a trilogy with the same title. This hair-raising epic is a magnum opus of Benus Adu Poku, Editors' Choice Award-Winning and Critical Acclaim Author. Boison is a young African man compelled by socio-economic hardships in his country to flee to Europe for a better life through illegal and unconventional routes in the Sahara desert. There, he comes upon Hilda, the American woman. What is this daring and dazzling woman up to in the inhospitable Sahara? Even in the midst of affliction, can her beauty and elegance and charisma exert any meaningful influence on the African man to digress from his original dream? All too soon, there is going to be a gruesome encounter……..
Updating...